Join broadcaster, author and paranormal expert Alan Robson MBE, on a journey through the dark side of Newcastle. Walk the route using the Weird Walks map and watch the videos as Alan shares grisly stories of famous local landmarks and their ghostly inhabitants.
The route starts at Discovery Museum, where Alan sets the scene for an unforgettable trail filled with tragic and terrifying tales. Join Alan at one of Newcastle's most haunted buildings, the Tyne Theatre, followed by the Blackfriars site, West Gate Wall and Cowan's Monument. Drop in at Newcastle Cathedral and then on to the Black Gate to hear the unfortunate story of the hungry soldier. At Newcastle Castle, the imprisonment of a young girl is enough to send a shiver down the spine of any florist. From there, head down to the Quayside to find out about the city's great flood and fire. Along to Bessie Surtees' House and a tale as old as time: young lovers, thwarted by disapproving parents. Finish off with a nasty story of the lad caught in the middle of a battle between The Cooperage and the press gangs. As you head back up to Central Station, bask in the warm glow of a walk well done.
You can download a copy of the map below, print it off and scan the QR code which will take you straight to the Weird Walks YouTube playlist. Or alternatively you can stay on this page and watch the videos here.
If you don't know your way around the city so well, here's a Google map to help you find your way.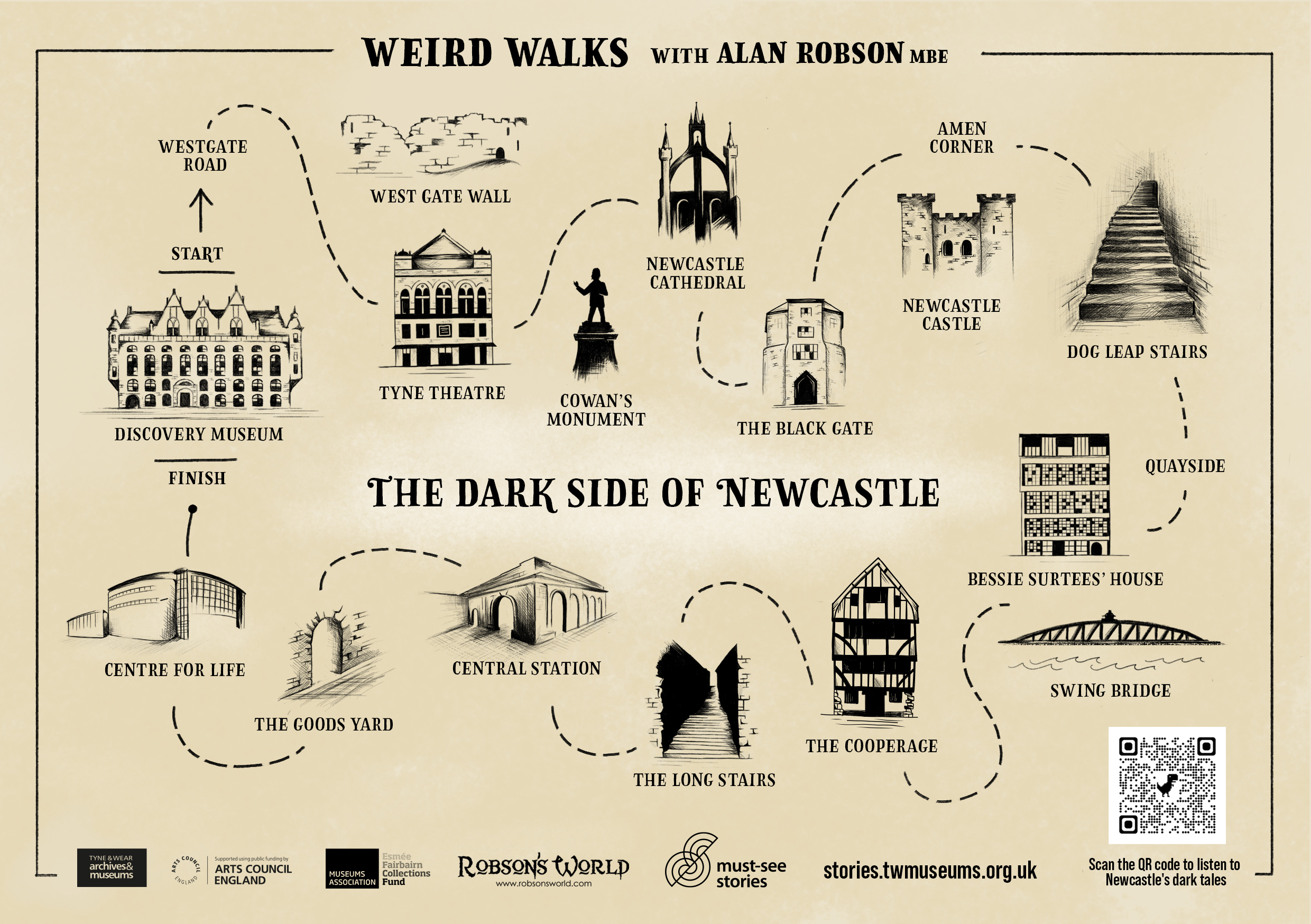 Written and presented by Alan Robson MBE, produced by Media Arts and commissioned by Tyne & Wear Archives & Museums in collaboration with Robson's World.