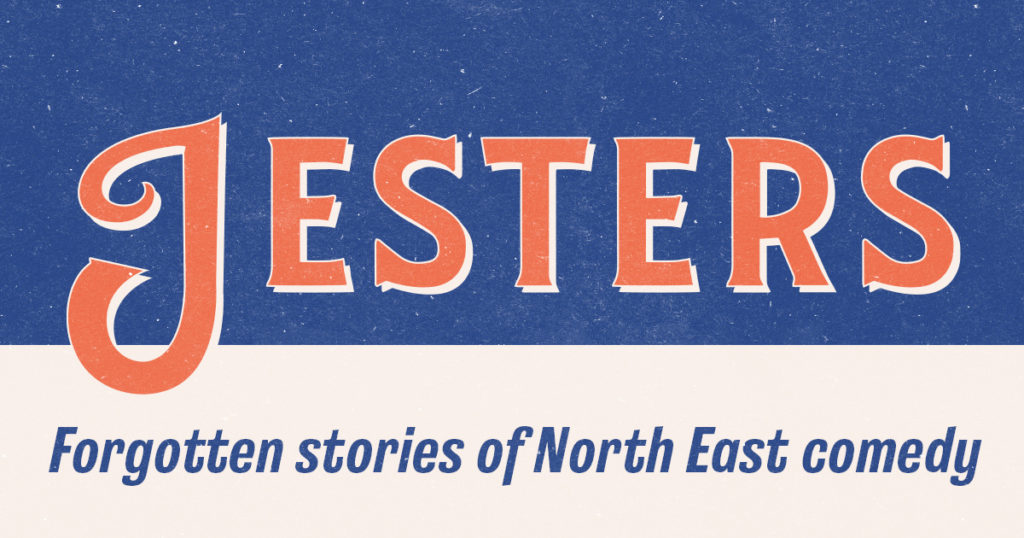 Join hosts Gavin Webster, Lee Kyle, Si Beckwith and John Gibson as they explore the history of North East comedy. Hear stories of lesser-known comedians and entertainers, who paved the way for today's comics. Expect sketches, songs, stories and silliness.
New episodes every other Friday.
Episode One – Leonard Barras, a Shipyard Surrealist (with Gavin Webster)
Stand-up comedian and long-time fan Gavin Webster tells the story of "a disgracefully neglected comic writer," the "Geordie Ionesco," Leonard Barras.
The mild-mannered, spotlight-shy surrealist was born on February 13, 1922, the youngest of four brothers, in Wallsend.
He spent his working life at the Swan Hunter shipyard and never moved from the area – in fact it was the inspiration and setting for his writings.
In 1949, he began writing his weekly column 'Through My Hat' for Newcastle's Sunday Sun newspaper, and his list of writing credits include BBC radio programmes Wot Cheor Geordie, Northern Drifts and BBC2's Mother Nature's Bloomers, starring Roy Kinnear.
His plays, A Little Stiff Built Chap and The Shy Gasman were premiered in Scarborough by Alan Ayckbourn.
He died on 20 January 2008, falling further into obscurity.
Written and narrated by Gavin Webster
Includes interviews with Max Roberts, former Director of Live Theatre and Peter Mortimer, Writer and Editor at Iron Press Publishing.
Leonard Barras' material provided with the kind permission of Iron Press Publishing and performed by Sammy Dobson.
Music by Gavin Webster and Sammy Dobson
Produced by Felt Nowt Productions and commissioned by Tyne & Wear Archives & Museums
Episode Two – Mark Sheridan (with Lee Kyle) 
Content warning: contains references to suicide and death.
Stand-up comedian Lee Kyle tells the story of the early 1900s Music Hall star, Mark Sheridan.
Sheridan, born Frederick Shaw in 1867 came from Hendon, Sunderland and became famous for his performance of the 1907 John Glover-Kind song 'I Do Like to be Beside the Seaside' in 1909.
Sheridan's legacy has been unfairly haunted by the rumour that in 1918, he died by suicide in Kelvingrove Park, Glasgow, as the result of a run of bad reviews.
Lee sheds light on his successful comedy career and reveals that Sheridan's life was much more complex than history gives him credit for.
Written and Narrated by Lee Kyle
Music by Sammy Dobson
Produced by Felt Nowt Productions and commissioned by Tyne & Wear Archives & Museums
Episode Three – Ian Milne (with Si Beckwith)
Stand-up comedian Si Beckwith tells the story of impressionist and comedian Ian Milne, whose rise to fame was cut short, when he died from an illness at the age of 26.
Milne was born in Hebburn in 1922 and worked as an engineering draughtsman at the nearby Reyrolle factory.  He honed his comedic craft, performing as part of the double act the Merry Mimics, with workmate Geoff Suggars, (which later became Brains Trust) and as part of the Tyneside Mummers.
His performance with the Tyneside Mummers caught the eye of the BBC's John Polwarth, who invited him to work on Wot Cheor Geordie.
Milne, who also had ambitions to become a dramatic actor's success is still lamented today.  Fans of his work state his influence on Bobby Thompson's Little Waster and had he survived to see popularity of TV, who knows where his talent would have taken him.
Written and Narrated by Si Beckwith
Additional research by David Silk
Ian Milne's material and personal archives from Tyne & Wear Archives, performed by Cal Halbert
Music by Sammy Dobson
Produced by Felt Nowt Productions and commissioned by Tyne & Wear Archives & Museums